About
Website Administration of Phap Thi Association would like to inform that
"Free distribution book program for pagodas in solitary and miserable provinces"
with details below:
Our Mission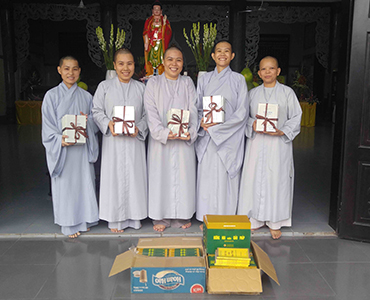 In order to assisst Buddists, who are living in solitary and miserable provinces, having facilities for learning, Administration have decided to launch the program "Free distribution book program for pagodas in solitary and miserable provinces". This is the free of charge activities to help it spread the Buddha Darma.
Notes:Unless special cases, any requirement for having Buddha books for studying and practicing at home, kindly get the approval from your Abbot/Abbess.
Strategic Plan
Administration will set up Free distribution book Management System with below functions:
+ Buddha book list: All titles of Buddha books in this program are selected by our Most Verenable, Virtuous and Devotees, Buddhists ( program Consultants) from current circulation Buddha books in the market. This list will be kept updating into Donating online and posting in our Phap Thi Association website for registrations.
+ List of Buddhist donate for Free book distribution: Program will create Free Buddha book distribution form. If you have interest in any kind of Buddha books, please feel free to register title and number of book by fill up this form and submit to our website.
+ Registration management: After Pagodas/Monasteries finish the register form and confirm the registration with Admin, Admin will create an official letter and send to Donation online. Donation online system will send to you an email with details below:
- Information of Pagodas/Monasteries/ Number of Buddha book requested.
- Number of Buddha books were volunteer donated by Budhists.
- Number of the amount donated for Buddha books.
- Address and Account information of Book store/Book production company/Printing company… where Admin ordered to print this Buddha books.
Note: Admin will not receive any cash/payment directly from Donator sponsors.
Admin will collect your donated Buddha books at the Book store/Printing company… after you have confirmed and made payment for this order to them.
Whenever Pagodas having these Buddha books on-hand, Donation online system will send Delievered Notice to you.
To whom tobe donated
Pagodas/Monasteries in solitary and miserable provinces ( compliance with program regular) who are daily facing the incovenience, difficulties for studying, can be able to send request to Admin for assistance.
Human resource
Admin of website www.phapthihoi.org will contact Monks/Buddhists to launch this program.
Financial
Each register form should be listed from 3 to 7 Budda book titles with number of printing from 30 to 50 books per title. These Buddha books will be divided to Buddhist who registered printing.
Printing cost will be rated base on the thickness (number of pages) of the Buddha books. Kindly find printing cost details at Free book printing estimated cost. After you have checked and got the number as your requirement, feel free to Administration for your orders.
Date
Program will be launched on Ausgust 10th, 2014 ( July 15th Giap Ngo)
List of pagodas received Buddha Book from Administration
It is our pleasure to receive the assistance from Buddhists to launch this program smoothly so that we can spread the Buddha seeds as much as possible.
With loving kindness,
Administration.
---o0o---
Amitaba

Free Buddha Book Receiving Regulation:

Dear Buddhists,

Unless special cases, Buddhists are kindly requested to finish all steps below in order to assist Admintration to process the printing Buddha books:
Buddha Books receiving formality:
Phap Thi Association only donate Buddha books to all Pagodas/Monasteries within Vietnam territory to assist Buddhists who are having obstacles in studying and practicing. Hence, these Buddha books will be delivered to Abbot/Abbess or representative of Pagodas/Monasteries who was appointed to collect books from Abbot/Abbess. Unless particular cases were approved by Phap Thi Administration, these Buddha books are not allowed to use for any reasons out of regulation of the program.
Before filling this form, kindly prepare:
- The approval from your Abbot/Abbess for this registration.
- Contact details for Administration contact and confirm before sending Buddha books:
+ Personal information: Full name - Religious name ( If any) - Current address - Age - Landline/Cell phone - Email - Relationship status with Monastery
+ Pagoda/Monastery's name receive Buddha books - Address - Landline - Buddha name of Abbot/Abbess.
Administration will confirm Abbot/Abbess the registration. After we got the approval from Abbot/Abbess, we will deliver Buddha books as planned.
+ Kindly advise Amindistration the best way to deliever Buddha books to Pagodas/Monasteries from Saigon.

Receiving Buddha books formalities:
- After the Buddha books were well received, kindly re-confirm your receiving status to Administration by Email/phone/SMS plus attach the Buddha books photo at main hall of pagodas/monasteries. Photos will be saved and reported to donators.

- Any donators love to dedicate merits and virtues to your family, Administration will attach that form with Buddha books package and send to Abbot/Abbess for your convenience.

Note: Unless particularly cases, all steps of procedure must be followed up accordingly, if you have not finished steps as requested, Donation online of Phap Thi Association could not take process your next registration. Kindly read and finished all steps as Donation online system requirements.

Thank you for your understanding!

Board of Administration.